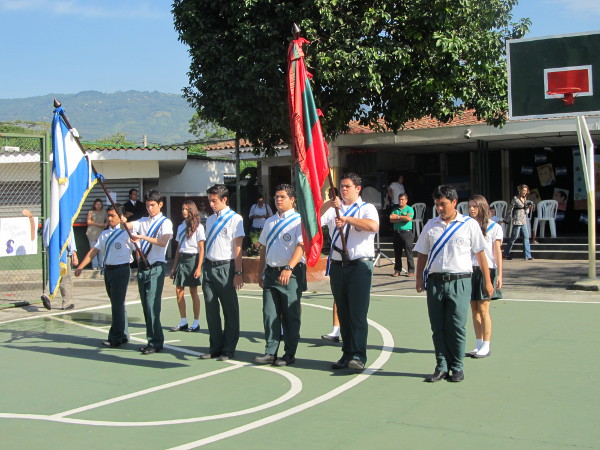 Escuela Bilingüe Maquilishuat opened its doors on September 17th, 1990. (Decree 126 authorized by the Ministry of Education), becoming an excellent option for bilingual education, with individual attention for the children and youth of El Salvador, and students visiting from abroad.
Escuela Bilingüe Maquilishuat is an entity that has fully complied with the stated guidelines and requirements from the Ministry of Education, has fulfilled parents' expectations for the education of their children, and can be trusted to solidly prepare its students for leadership and success in the new millennium.
---
We fully satisfy our students' needs with a high level education, offered through a complete bicultural program, which is developed from the early pre-school years all the way to high school. We walk students through a complete development of their potentials, so they become responsible, respectful and moral citizens, that accomplish success at a personal, professional and social level.
To be a highly recognized institution, known for the quality of its education, the excellence of its teaching methods, and the professionalism of its faculty . A school focused on satisfying students' needs for academic, physical, and moral development, helping them become model citizens with solid grounds for their individual fulfillment, as they serve society and their country.
---
Requires complete mastery of both Spanish and English.
Demands of each student the successful completion of a college preparatory academic program designed to prepare each one for success at university level.
Fosters respect for others, personal honesty, self-discipline and responsibility as abilities, every bit as important as the academic skills.
Involves the entire school community in the education process. Parents, students and school as equal partners in the development of a program that allows each student to become a complete and integrated person.
On November 12th, 1990, through the decree Nº 1126, ESCUELA BILINGUE MAQUILISHUAT was authorized by the Ministry of Education of El Salvador to open its doors. Since our school has taught the following grade levels: Pre-school through Preparatoria, Elementary School, Middle School and High School. Our student body attends grades from Pre-Kinder through 12th grade.
---